Q&A with Tom Jodeit, Senior Product Manager at Procore on must-have tools and habits
Each week we talk to people within our network to learn about how they work, their processes, tools they use, and things that inspire them. It's an opportunity to get a sneak peek into how other builders and makers do their jobs. So you might get inspired and learn something new, or, at the very least, get a song recommendation.
This week we talked to Tom Jodeit, Senior Product Manager at Procore, the all-in-one construction management software.
p.s. – Tom's favorite song is "The Goodness" by TobyMac, so feel free to listen while you read to put you in the mindset 🙃.
What do you do?
I am a Senior Product Manager at Procore. The Procore platform connects every project stakeholder to solutions we've built specifically for the construction industry—for the owner, the general contractor, and the specialty contractor.
The goal is effectively to improve everyone's life in construction; all the way from design through closeout and even running operations for the building. It offers a suite of different products but my focus is more on the financial products like managing contracts and change orders.
What is one tool you can't imagine your life without?
Generally my iPhone, I do everything on it as far as software. Slack for sure. Just seeing communication as the most important part of my role.
What other tools do you use?
Jira for issue tracking. We use Snowflake as our data warehouse where I can run queries to analyze data. If I want to visualize it for a presentation I use Tableau. A lot of our engineers track their release notes in GitHub pull requests. So I also look at GitHub to keep myself up to date with what's going on with engineering releases and also learn from the engineering exchanges about future challenges and opportunities. It's like a peek behind the curtains. I use Jam to report bugs. Our engineers like the telemetry data they receive from tickets created by Jam.
Which tool have you discovered recently?
Marvin, it's an iPhone app that lets you read books by scrolling a feed . Like I said earlier, I'm doing everything on my iPhone.  I am a bit self‑conscious as my kids see me on my phone all the time, but they don't know if I'm reading a book or maybe just scrolling through TikTok. So Marvin is cool because it feeds that need for doom scrolling, except I'm reading books and it's just automatically scrolling through it.
What book are you reading right now?
I am reading this book by Richard P. Rumelt called Good strategy/Bad strategy. It was recommended to me by another PM from a different company. I've learned since I started as a PM in December that there are seasons to the job where I have a flurry of activity and we're trying to get a release out and then kind of a shift over to strategic planning about what's coming up next year. Right now I am in that phase where we're trying to put together product-strategy and top down research to find out what's broken about our product and how we should go about fixing it. So the book is very relevant to what I am working on right now but it also talks about how to cultivate and craft strategy in general.  
One thing that you learned recently about how to be more productive and happy at work?
The importance of writing stuff down.  Out of my head and onto a page to take on a new life as others read it and ask questions or provide feedback. I use Apple Notes for taking notes on my phone and laptop.
A favorite feature of your desk setup?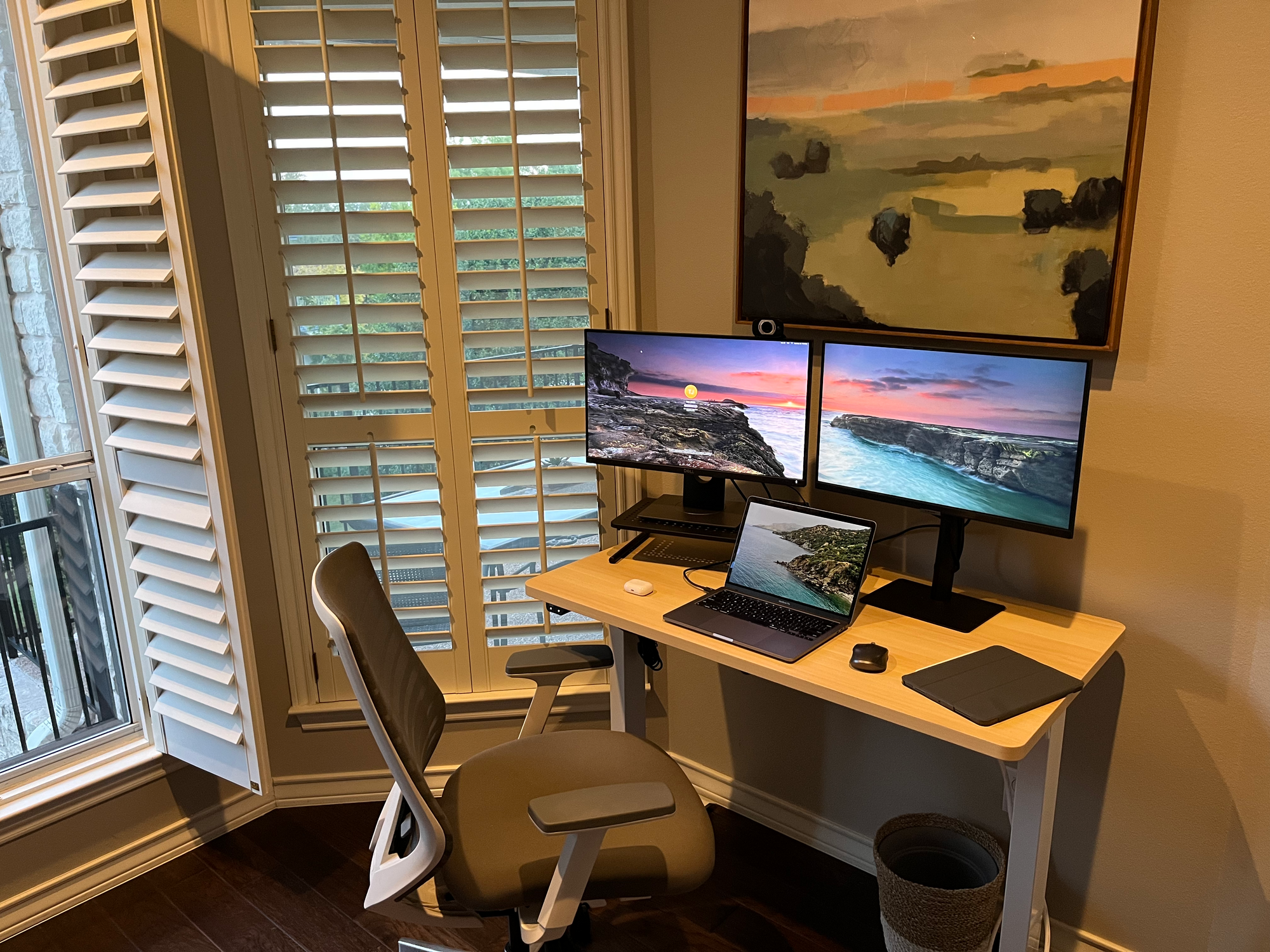 Sit / Stand desk, multiple monitors. I am doing a lot of cross-referencing all the time so having multiple monitors helps me a lot.

Where can people follow your work?
You can follow me and my work on LinkedIn.
Dealing with bugs is 💩, but not with Jam.
Capture bugs fast, in a format that thousands of developers love.